In this thread we will finalize the rules, create characters and hammer out the details of the game, such as any further background characters people want to suggest.
These are the rules as they currently stand:
Population = hp, and controls most of the other stats directly or indirectly. Population is primarily increased by gathering in more survivors, but eventually this is supplanted by having children grow up since there are no more survivors who have not joined a colony but are willing to do so.
Three resources would be tracked: goods, services, ideas.
Goods are physical stuff like lumber food and stone, a certain amount is consumed each turn based on population. (For simplicities sake all goods are assumed to be intro-convertible somehow, perhaps by trading with other groups or some arcane matter converter. Don't try to over think it.)
Services represent the work the population can do, and cannot be saved from turn to turn except by spending it on a permanent project. Services are used to make use of the other two resources and to get more of them.
Ideas are things like technical know how and cultural cohesiveness. They are equivalent to DNA / mutation points. Each person added to the colony increases Ideas, as would things like engineering manuals and so forth. You get a certain amount of Ideas per turn automatically, because in situations like this people think very hard a lot of the time. (The more permanent repository's of ideas like computers or books you have the more automatic gain per turn, and on the flip side these things increase the maximum amount of this resource you can save from turn to turn.)
All three resources are required for almost anything the village would do, but how much of each is variable. (Except Services, you can use those to get the other two without spending anything else, but you don't get much back.)
There are six other stats: Attack, Defense, Range, Technology, Infrastructure, & Diplomacy. (These are largely self explanatory to my mind.) They are measured on a scale from 0 to 11, 0 being non existent and 11 being things beyond the degree that we can call upon in the modern world being common. (Example: Range 0: quadriplegic, unable to move or affect anything by themselves. Range 9: Modern capacity, cars, trains, planes, and boats. Range 11: Cycled ships traveling between earth and mars with monthly arrivals and departures.)
To prevent the 'tyranny of the majority' each person gets direct control of one personal character, whose stats are tracked separately and who can ether go with the majority or do their own thing. In any situation where no action is specified for a person's character they will go along with the majority. These characters are limited primarily by three factors, they can have a HP total of no more than 3, get at most 60 service resource per turn, representing the hours they can put into a project personally in 5 days, and they have only the goods and ideas resources that they can gather for themselves or with the help of other pc characters. It is each persons responsibility to track their own character's stats, I dont have the time, patience, or inclination.
This is the map of Starlight Village: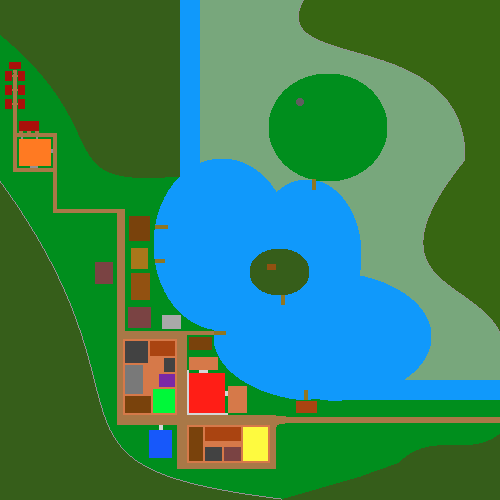 Dark green is woods, light green overgrown grassy areas, light blue the lake and rivers, the tan areas are dirt roads or zones of beaten earth where people have walked a lot, and the grayish green is the swamp.
The Red building is the Town Hall/Courthouse/Jail/Police Station. (Very small town. Ground floor courthouse & chamber of commerce, upper floors town hall & mayors office and records, basement police station and jail, which only has four cells counting the detox room and the padded one.)
Yellow building is the Hotel, where new people stay till they can find space with established people or club together to build a house for themselves.
Bright Green is the General Store/Grocery, run by Mr Luke Jefferson. (See 'established characters', below.)
Blue is the Library, which is mostly empty even though it is two stories and a basement.
Purple is the Children's Creche, the single most heavily fortified building in town bar none. If the town is overrun and everyone has to fall back to a central location for a final stand they do it here. (Formerly the hardware store, though it's hard to tell from the inside.)
Orange is the Villa Caprice, which is the mayors house, and also the place for balls, dances, fairs, masques, etc.
All the other buildings are random stores and houses, which have no specific interest until the players create one.
Each pixel represents approximately one square in the Pocalypse comic's mapping system. (Also we are not using the fuzzy geometry, it really is 1-1 except for walls which somehow take up no physical space. Maybe they are all classic Japanese style, made of rice paper.)
Established Characters:
Mayor Portia Blake the 2nd: An elderly woman but sharp as a razor. She is the daughter of the Portia Blake who found Taringo in the late 50s and revitalized the community along with her children. It was the great tragedy of Mrs Blake's life to see the rise of the suburbs and the collapse of rural communities destroy Taringo again. Unfortunately her mother did not live to see the lake return and the swamp migrate up the far shore. Mayor Portia welcomed the survivors coming to the town and rebuilding it once again.
Mr Luke Jefferson: Wiry African American in his late forties. Owns and operates the general store/grocery. One of the few people who stayed through the second collapse. He welcomed the survivors because new people meant new customers. He orchestrates the scavenging/acquisition efforts. (Important footnote: At the start of the game Law Enforcement is still somewhat active in this area so you cant just scavenge anything that isn't nailed down and take a crowbar to the things that are, which is where 'acquisition' enters things, buying stuff on credit that you know will never be paid for. Up yours Walmart! )
Miss Angelica Cheever: Related to Minihaha Cheever. Local land owner and producer of 'Minihaha's Mosquito Miracle'. Stayed through the second collapse because the plants for the Decoction only grow at full potency in this specific swamp. She did not welcome the survivors because thy have appropriated her property to live in without paying for the privilege. A hard grasping woman and little liked.
Old Man Wakefield: Came here at the end of the second collapse for the solitude and quiet. Naturally he dislikes the survivors showing up. He is in many ways a typical 'grumpy old man' right down to the 'get off my lawn!'. However he is a veteran of dessert storm and two tours of Afghanistan, so if he lines up with a rifle your reaction had better be one of two things, run like hell or put your hands above your head and drop anything your holding, fast.
Mama Maybelle Mason: Big black woman with a personality to match. She runs the children's creche and woe betide anyone who threatens her charges. (There has been ONE incident of pedophilia in the town, they never did find the man's body.) She has two children, fraternal twins, Mary and Mark, age five.
Tiberius: Tiberius is the law around here. He is not the most personable but he is fair.
Vincent Russo: Town's 'king of vice', which right now consists of moonshine, pornography, and what amounts to playing matchmaker for new arrivals that were hookers and still think in those terms. He would like to open a small casino and bar but the mayor and Tiberius have warned him off from the first part and he would need a more reliable supply of liquor for the second one. Bills himself as a "Simple Businessman, trying to do business." His brother Sal is the local mechanic.
Salvatore Russo: Resident Jerk. People put up with him because he knows things like how cars work and how to repack bullets. (Personality is a bit like Joe.)
Robert Chaplin (Bob): Local moonshiner. Had a cabin in the woods (off map), a half-dozen stills scattered around, and enough small farm plots to feed both the stills and himself all year long. Now that the Pocalypse is come and the revenuers are fighting for their lives his ambition is to turn his moonshineing operation into a legit distillery, the first step of which is working closely with Vincent. Owns nearly all of the land to the west, north west, and south west of the map for mile upon mile, crown grant holding. He has ties to the town by way of the General Store and an unusual friendship with Old Man Wakefield based on drinking and taking potshots at the rabbits that live in the field behind the vet's house. (Sometimes they even get one to cook.) Additionally he is known to be an avid hunter and trapper.
Creating your character:
First you must Chose a name. (Shouldn't be that hard. If you have trouble hit up a baby name site.)
Then post an avatar like one of the Pocalypse sprites, if you are unsure how to draw one I will now quote for you the post with the link to the step by step guide:
Squizzel wrote:Ok done! You can download it

Here!

Sorry its not amazing, but I hope it helps. I can't really give you more than that :/
(Doesn't have to be fancy.)
Next you get 25 points to set your character's abilities, distributed among the same stats as the village, with the following caveats:
Range is replaced by speed, since it is one character not a city state. It is also in two category's with equipment and without. If you buy up to an equipment level you get 2 in normal free, but can trade one of that back for an extra point to spend elsewhere, meaning you have lost one or both legs. (This must be represented on your sprite.)
Technology represents your knowledge, not your actual functioning equipment, mostly.
Infrastructure also represents know how, mostly.
However both of them give you 10X that amount of starting resources in Ideas and Goods respectively to both your character and the village. (Share and share alike, or if you feel that your character wouldn't share goods with people assume this is your cut from tipping them off to an unguarded stash and helping them get it back to the village. You couldn't haul it back without them, they couldn't find it without you, so quid pro quo, everyone wins.)
Attack & defense are divided into armed/armored, and without equipment, which are increased separately. Without equipment represents martial arts training of some kind, though what kind is up to you.
Individual people can only have the following scores to start with at maximum:
HP: 3 (Which is the max you can have EVER. If you do not put at least one point in this any hit is an instant fatality.)
Atk: 4/6 (4 would mean a Grand Master of Joe-Kan-Do (highest level unarmed), 6 would mean you are toting an AK-47 with dragons-breath ammo.)
Def: 3/6 (3 for unarmored defensive martial arts Grand Master (highest level without armor), 6 for Full on military surplus battle rattle.)
Spd: 3/7 (1 would mean you can only crawl, 3 would be an Olympic Gold Medalist in Track (highest level without a vehicle), 4 would be a good bicycle, 7 would be a synthesizer powered motorbike.)
Tech: 9 (Applied Physics Professor)
Infra: 7 (PHD in Industrial Engineering)
Diplomacy: 8 (Consulate Diplomatic Attache)
All scores start at zero.
As an example here is my character: